Deployment Project #91
"If-I-Can-Do-It-So-Can-You" Craft Desk
If this 14 month long deployment has taught me anything, it's that I can do it ALL as long as I am willing to step out of my comfort zone. This next deployment project is a prime example.
This girl, who has never nailed together 2 boards, BUILT A DESK all by myself!
I will admit, I can't take credit for the design. I went on a web search for "craft desk tutorial" and came across a blog that gave instructions on how to make a desk. Quickly, I found a piece of paper and copied down everything on the blog, drawing a sketch of the desk and materials needed. Thank God I did, because the next day the blog was GONE!!! No trace of it! Below is a scanned copy of my sketch, but the website you see written on it (jannypie.com) does not exist anymore.
UPDATE: ****One of my kind blog readers sent me the link on how to build this desk! Thank you!!! You can find the link
HERE
******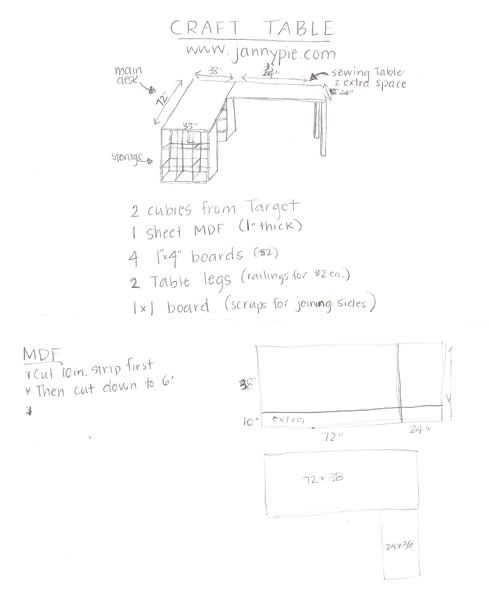 I don't have a full tutorial on this, but I can give you details if you are interested. Just send an email to
Faith's Place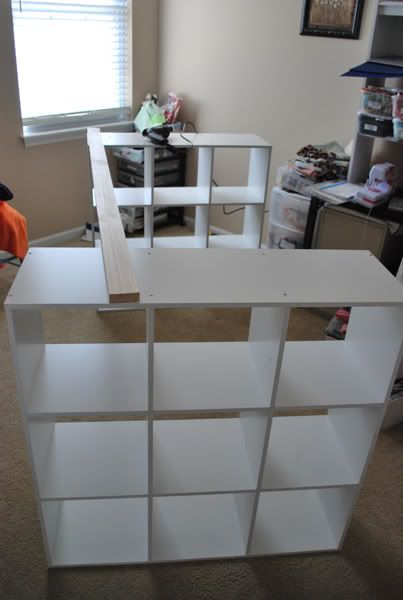 First I bought 2 cubby systems from Target.....I also bought a piece of MDF, a few boards, 2 stair spindles and some "L" brackets...(more on that later)
I attached the 2 cubbies together with two 1x6 boards, then placed the sheet of MDF on top. The boards join the cubbies together, but also act as a support beam for the MDF so that it doesn't sag in the middle. (The MDF is EXTREMELY heavy. The only assistance I needed during this project was getting the MDF on top of the desk. it must weigh 100 pounds..no joke!)
In the picture below you can see the support beams, cubbies and sheet of MDF.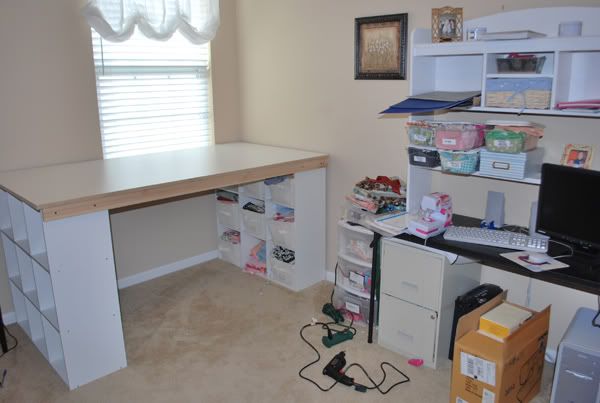 While I was at Lowe's I had the sheet of MDF cut into a few different pieces...I used the extra piece for the 2nd part of the desk, attaching it with "L" brackets.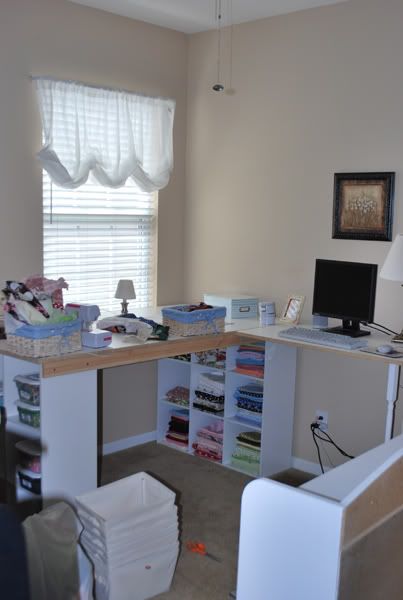 After a few hours of work, I had a desk I can be proud of....and I did it all by myself!!!! Yippee Skippy!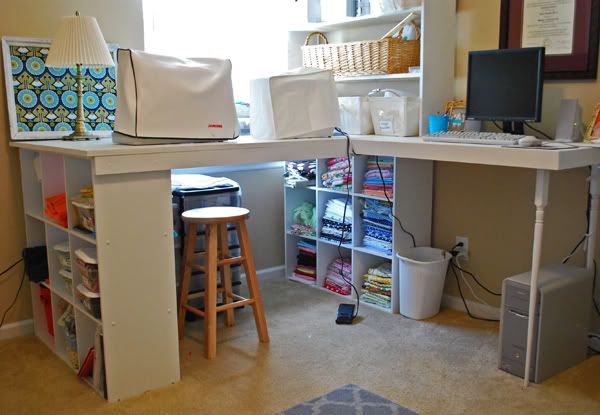 The white shelf you see sitting on top of the desk was something I bought at Goodwill last year for $1. You can read about it
HERE
I painted teh support beams white when it was all over with.
I am still working on my craft room, (it's the last room in my house that I am re-doing) and I hope to finish it in the next week....time is running out. I have 18 days to meet my goal of 100 Deployment Projects before the hubby comes home!!!! You can read all about his deployment
HERE
.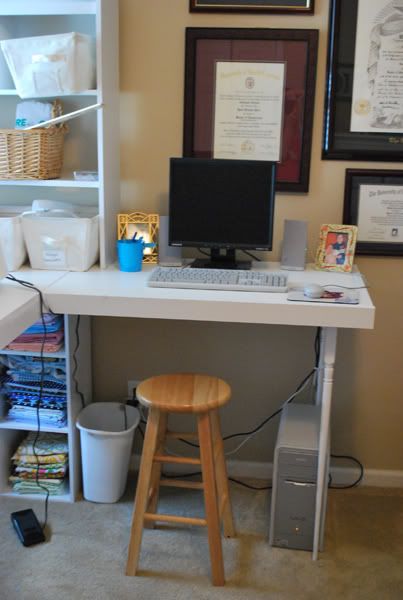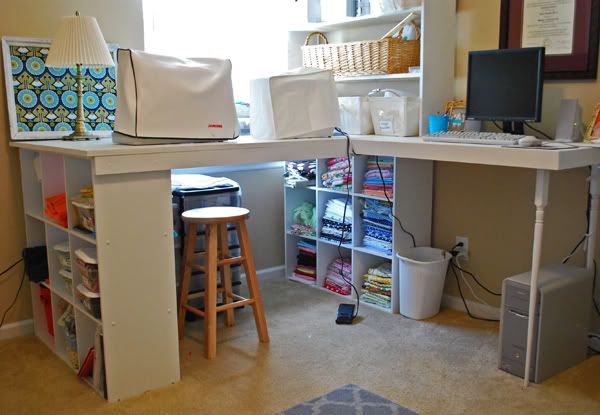 Thanks so much for taking the time to check out my craft desk.
Here is a quick run-down on how I did it.
Materials Needed
2 cubbies from Target
1 sheet of 1" thick MDF ( I bought the kind that is already finished with a white top...about $30)
2 stair spindles
2- 1x6 boards (for the support between the cubbies.)
2- 1x38" boards
1 - 1x24" board
nails
"L" brackets
When you go to Lowe's and get a sheet of MDF, it comes in an 8ft by 4ft sheet. Have them cut 10" off the LENGTH of the board, then have them cut 24" off the WIDTH. This will give you a piece of MDF that is 6ft long and 38" wide, and also another piece that is 38" long and 24" wide. The smaller piece will be used for the small part of the desk. (You can discard the 10" piece)
Refer back to the first part of this to see how to do the larger part of the desk. For the smaller part, you will attach it to the larger desk using your "L" brackets. I also attached the spindles (legs). There may have been an easier way, but this was how I did it. Then I used the smaller boards to put around the desk, just for looks.
I know that is pretty brief, so just
email me
if you have any questions.
Deployment Project #89
will be shown again shortly with your photos you sent in to Terry Haas. She's going through them right now!! I can't wait to see what she has to say about your photos you submitted!