WHEW!!!!!!!


It's been a week here at the Price home......


On Thanksgiving morning Ryan and I ran in the Turley Trot 5K in downtown Charleston....
I think I had my best time....however, I forgot to start my stop watch when the race started because I realized right as the race kicked off, that I had ONLY 2 SONGS on my ipod....
(somehow I messed up loading up some old school Bon Jovi on my ipod the night before, and deleted ALL of my songs on it and only uploaded the 2 new ones I bought the night before.) I was left running 3.1 miles with ONLY 2 songs on my ipod...Bon Jovi's "Runaway" and "Have A Nice Day." If I hear either of those songs again, I just might puke!
So no accurate stop watch reading + just 2 songs on my ipod = a not so pleasant race.....yet, I think I did my personal best....
The night before the race Ryan said he didn't feel well, so he went by the Urgent Care to get checked out.... all test results came back negative, so he chalked it up to an oncoming sinus infection....He even got up on Thursday morning and ran the 5K with me...
Fast forward to Friday morning....Ryan woke up with a 104 temp, chills and body aches. Luckily we were at my inlaw's house, and my ma-in-law kept the girls while we went back to the Urgent Care....
diagnosis....H1N1....
We had to miss the yearly family reunion and spend our "nice" holiday weekend indoors because Ryan was too sick to move. It's Day 6 as I write this, and he's still trying to get his stregth back.
Called everywhere in town today, and no one has any H1N1 vaccine left....LORD pu-leeeease don't let me get it.....
So....with all of that said, now you know where I have been....taking care of the H1N1 patient and trying to keep 2 children away from their daddy.....Do you have any idea how hard it is to keep 2 Daddy's Girls away from him?!?! WHEW! But we made it through!
Here are some pictures from our "fun" 5K...Ryan running with the flu, and me running with 2 songs on my ipod.
But I still love me some Bon Jovi....just not those 2 songs....
Here we are right before the race...
Here is Ryan right at the finish line...flu and all...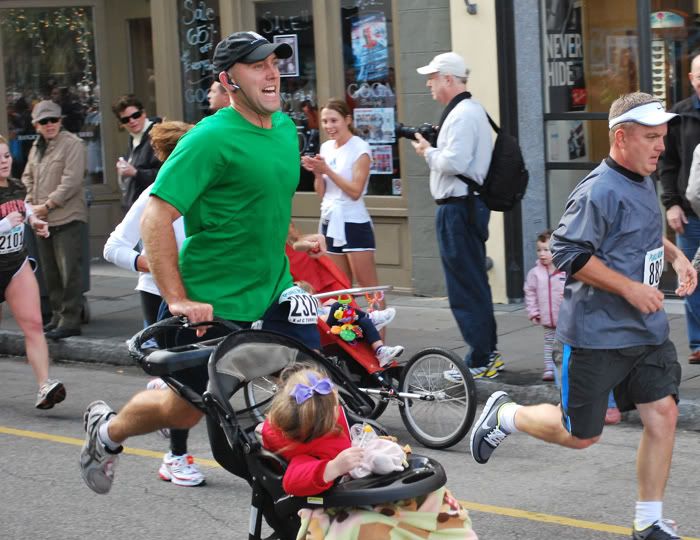 They even had races for the kids.... Brooke ran in the 3 year old division....Faith ran in the 6-7 year olds! (You can see Brooke in the hot pink pants and gray shirt in this pic)
She actually won, but they all got medals for participating...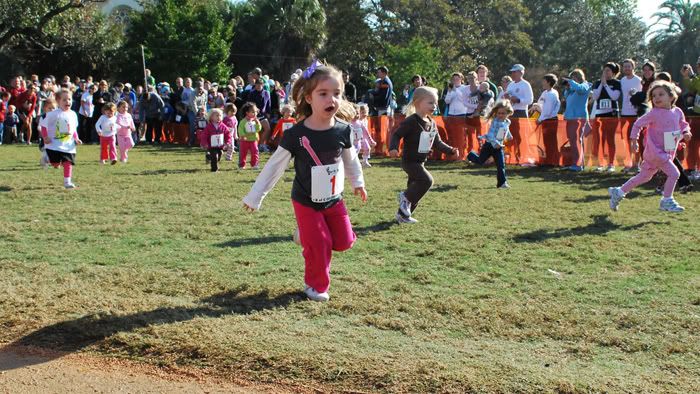 Brooke is showing off her medal!!!
Faith did really well too...I didn't think she was a very fast runner, but I think she must have finished in the top 5 out of all the kids! Good job Faith!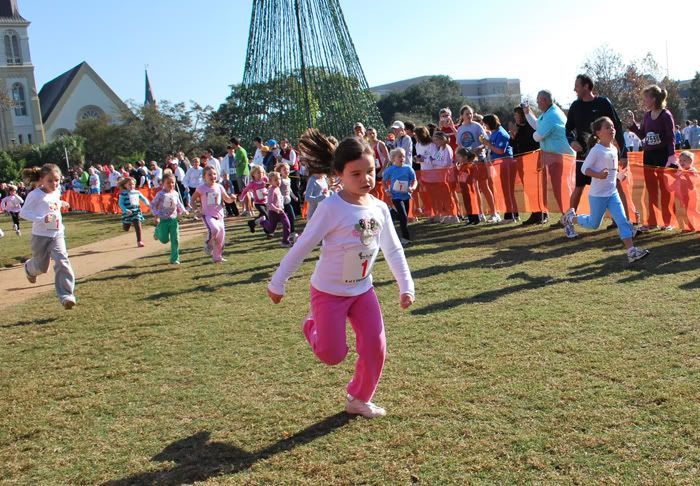 Here are the girls showing off their medals....they must have worn these for 3 days straight after this...
Here I am with my racing buddy, Kym....she finished about 40 seconds ahead of me...her new nickname is Speedy Gonzales...
Next race is this weekend...Reindeer Run...Ryan has Army duty, so it looks like I will be running this one without him... I'll keep you posted!