I took some pictures of Faith's room the other day, and thought I would share. I am not finished with (trying to) decorate it...but it's come a long way. She has 2 long walls in her room, and one of them has been a bear to try and decorate...so I am still no finished with one, but I am getting there.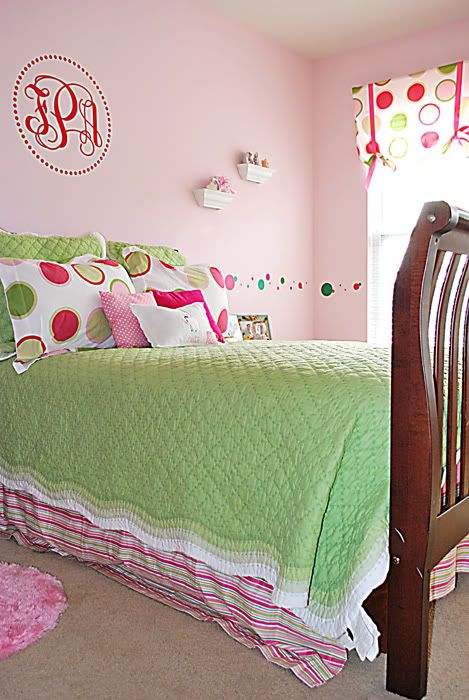 I made the curtains, pillow shams and accent pillows with fabric I purchased from Hancock's fabric. It was $14.99/yd. and I got it for 40% off...the round pink rug on the floor is a bath mat from Target. I didn't intend for it to be by her bed, but Faith likes it there...and it actually looks cute.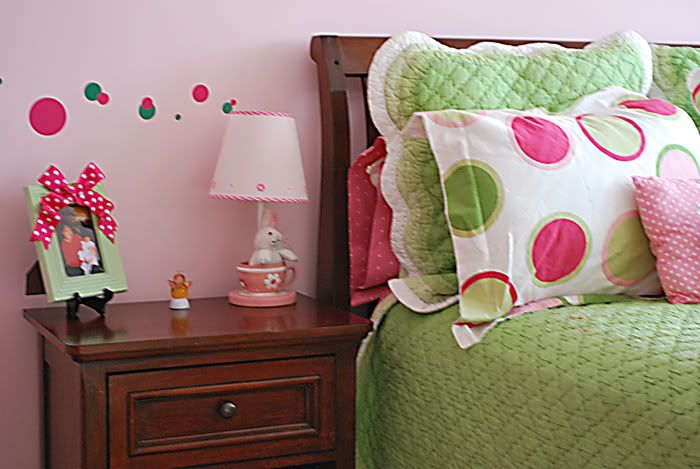 The lamp beside the bed was in Faith's nursery as a baby, and the picture frame was one I bought and glued a ribbon on. You can see where I did it
HERE

....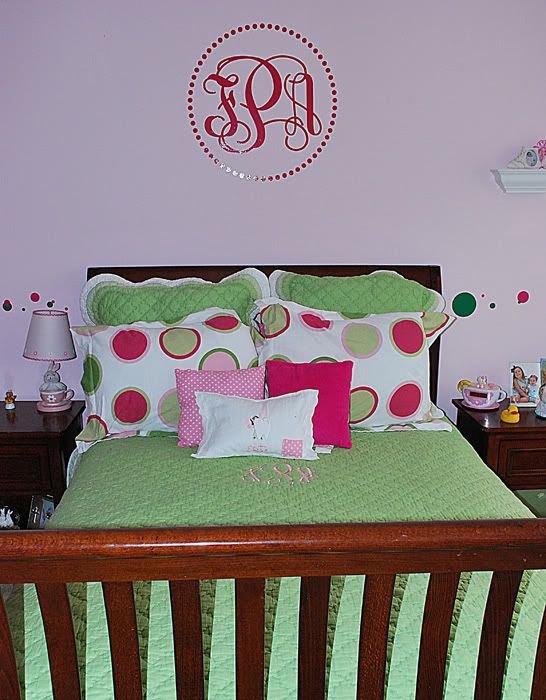 The monogram on the wall came from
HERE
and the spots on the wall came from

HERE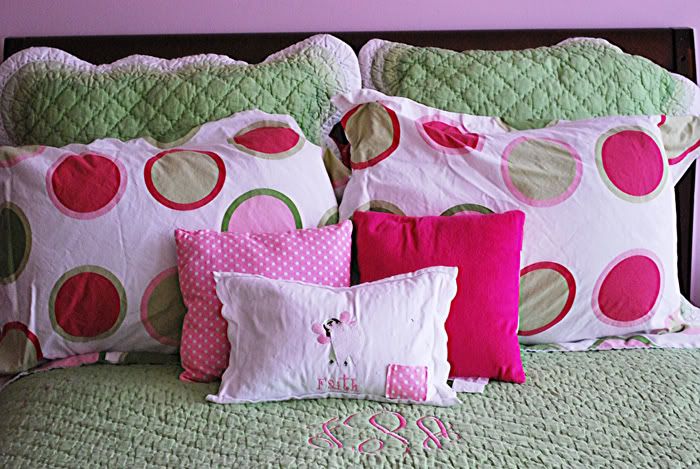 The Tooth Fairy pillow started as a plain white pillow. I monogramed a cute little fairy peeking out from behind a tooth, and created a little pocket for the teeth. It turned out so cute!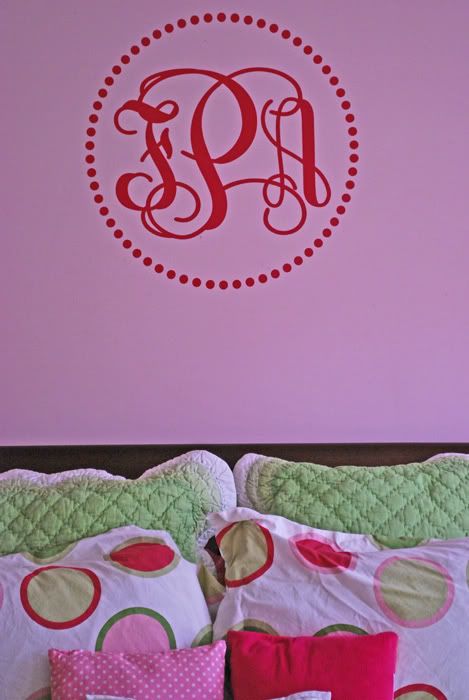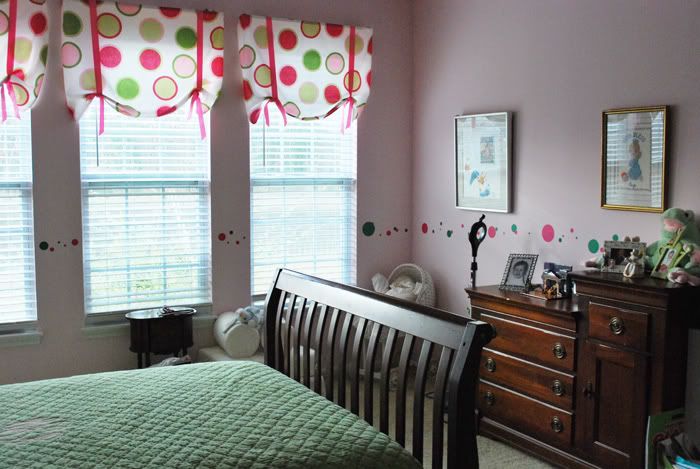 Here's the big wall I was telling you about....there are also some Pottery Barn Kids pink chairs that in front of the windows, but the covers to them were in the washer when I took this picture...if you have any ideas for what to do with it, pu-lease let me know...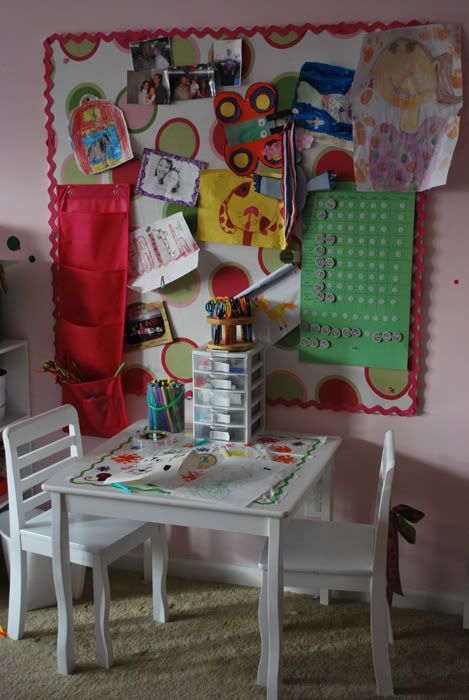 This is Faith's art table and bulletin board. I bought a cork board from Lowe's, cut it in half and hot glued fabric around it, and hung it on the wall. I think it's 4ft x 4ft, so it's big. I HEART IT! Faith was coming home from school with all this art work, and I was running out of places to put it. Now with this bulletin board she can put up her work from school...and my fridge stays relatively clean!! :) There's also an allowance chart on the bulletin board, but I will talk about that in a later post.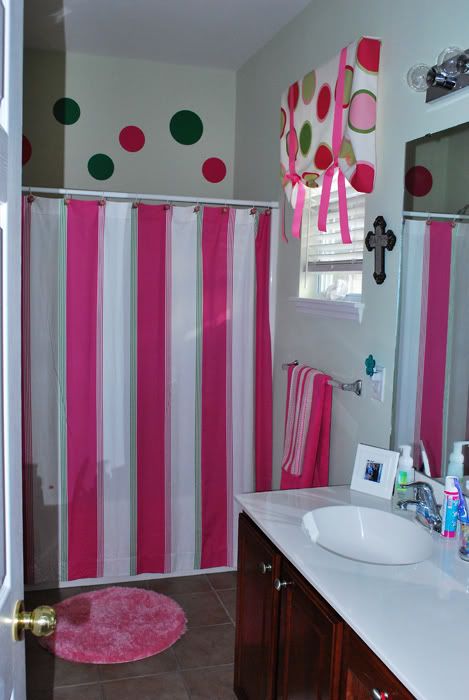 This is her bathroom...I made the curtains, but got the shower curtain off EBay for about $20...rug came from Target
Faith has a walk-in closet, so this is where I keep all of her toys. Clothes are on one side, and toys are everywhere else! HA! She has 2 sets of cubbies with bins that are labeled. It definitely helps keep it cleaner and organized....
So,that's Faith's room...still has work left to do on it, but I think it's suitable for a 7 year old!!! Let me know what you think!!!