This was a FUN project to take on.


I am currently giving my kitchen a makeover.


After months of searching for the perfect shade of beige for my walls, I finally found it at Benjamin Moore. It's called "Brandon Beige"
I repainted my walls, and saw THESE curtains over at

The Nesting Place.
I didn't want to hunt and hunt for striped fabric that matched perfectly AND was in my budget. ( I did find one fabric with stripes, but it was over $25 a yard, and I needed 5 yards of it).
So, I went to my local Target and bought 5 solid white curtains, and spent about $45. You will see why I needed 5 panels in just a bit.
I measured each stripe to be 8 inches wide and taped it off with painter's tape.
Then I used the exact same paint that I used on my walls and filled in every other stripe.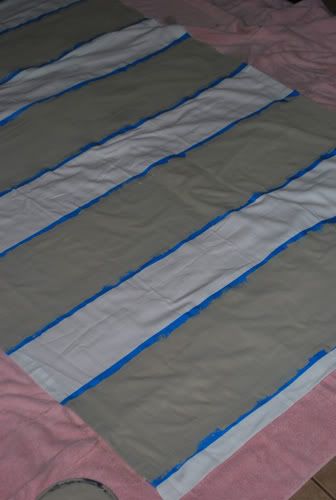 Of course, for 2 days I had a curtain taking up my entire floor space in my kitchen....
I wanted to hang my curtains higher than 84" but the panels only come in 84", so I bought a 5th one and used it to make each curtain a little longer, and sewed on the extra fabric to the bottom of my painted curtains.
See, you can't even tell, can you?!?
I never thought I would like drapes in my kitchen, but I am LOVING how they look!!
So, here is what they looked like

BEFORE

....with valances and pale beige walls...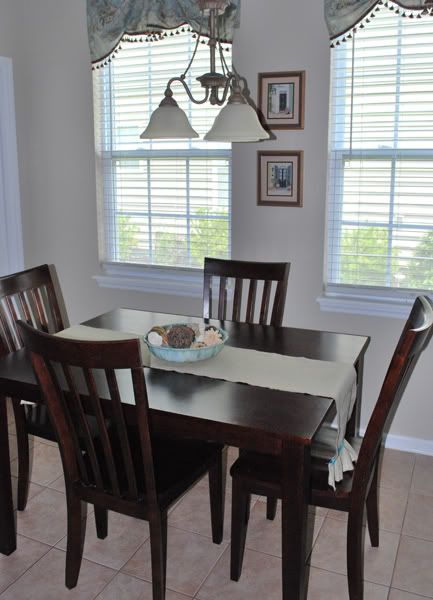 And here they are AFTER...with the Brandon Beige on the wall and the new curtains!
I

LOVE

my painted curtains!!!!!!
More to come on the kitchen reveal...still waiting on a few finishing touches....so stay tuned!