Back in the fall, I did redid my stair case. Actually, I paid someone to take on this task, but I say "I" because I did all the painting and staining.
You can read all about the stair redo HERE
Sooo, the other day I bought some vinyl decal numbers and added them to my staircase.

I'm such a sucker for vinyl decals.
Here is what the steps looked like right after they were finished.
...and here is what they look like

after

....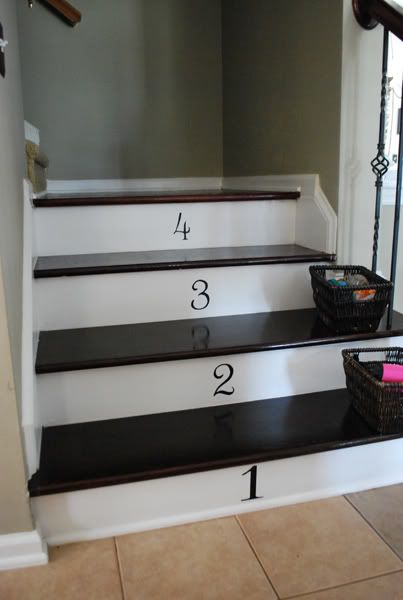 A small project....but a project nonetheless....
At the beginning of this deployment, I said I wanted to do 100 projects before the hubs came home. With just 15 weeks to go, I have 32 projects left to do. I have done quite a few that I haven't had the chance to blog about, so please keep checking back!!!! I have some FUN things to show you.
And I just wanted to say THANK YOU for all of your sweet comments. I love seeing my followers list get bigger and bigger and the sweet comments come in!!! Thank you so much!!!!!
Have a super day! I will be back tomorrow!