Although I am not ready to show you my "Master Bedroom Reveal" just yet, I can give you a sneak peak at my new wall color and my new curtains....
So, meet my new wall color in my master bedroom....
(Stonington Grey by Benjamin Moore)
My plan is to have a bright, cool, welcoming master bedroom....and when I eventually show you what it looked like BEFORE, you will see what the difference a paint color can make.
So, in the mean time meet my new curtains...
Village Blue Chevron print fabric from Premier Prints.
To make these, I used iron on tape. I folded the edges over and ironed. Simple.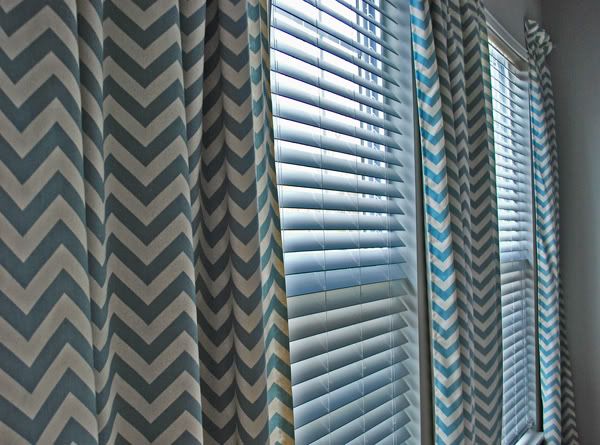 I am loving the blue, gray and white combination in my bedroom!!!!
...and these curtains are not even hung using a curtain rod. I simply bought push pins and pinned them up....
With 3 large window in my bedroom, I didn't want a HUGE curtain rod going all the way across the wall (not to mention how expensive that would cost)....so I just pinned them up....
So there is your sneaky peaky into my master bedroom redo...
...and don't you love my new scrolly mirror?!?!?
(TJ Maxx $40)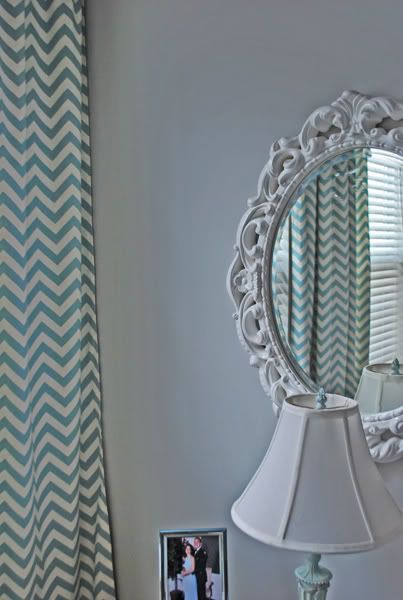 I have a few more finishing touches in here to show you before I give you a shot of the entire room...
Have a wonderful day!!!!!