I decided to give our Master Bathroom a little makeover.....
There was actually nothing wrong with the way it was before,
...other than those giant, contractor-given-come-with-the-house-mirrors...
...and the yellowish/wheat colored paint I was getting tired of looking at....
....and the cheap looking light fixtures that also came with the house...





...okay...so there WAS something wrong with the bathroom.....
I decided to slap a new coat of paint on it, put up new light fixtures, and hang up new mirrors and a few more towel racks. No more sheets of mirrors or cheap-o lights!! YAY!
Soooo, here are our before pics....(My hubby started taking down the mirrors before I could grab my camera...)

Here's the hubby putting in the new lights....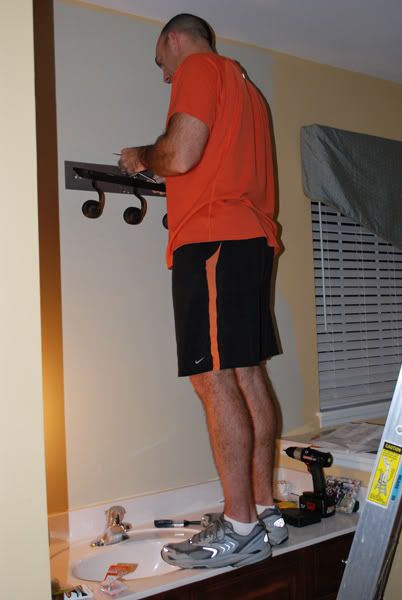 And here is our "NEW" Master Bathroom....simple, but such a breath of fresh air...
The color I used is called "Tabu" by Olympic from Lowe's. The light fixtures also came from Lowe's. One mirror came from Marshall's for $29!!!! The other one is actually a medicine cabinet that was on clearance from Lowe's. I hate the 2 mirrors don't exactly match, but the hubby wanted a medicine cabinet, so I had to do my best to match them up.....
The other small decorations you see were things I had just around the house...didn't have to buy anything new to decorate....yay!!
Next up...my kitchen....stay tuned....
HAPPY FRIDAY Y'ALL!!