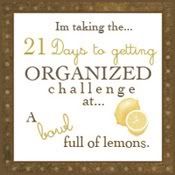 Are you looking for a way to get organized??
One of my favorite bloggers is hosting a "Get Organized" party the month of January.
Starting on January 1st, she will give you a daily organizing task to complete....
By the end of the month you will be organized!!
How exciting!!!!
If you are like me, you get overwhelmed trying to get organized, but if you have someone telling you what to do, it's much easier!
So hop on over to
and check out her posts starting on the 1st!!!!!