WHEW!
It's been chaos around here lately......
You know you are WAAAAAYYYY too busy when you find THIS in your fridge...
Sadly, I don't even know WHAT this was.....
We've been so busy with end of the school crap activities!
In the last week we have had an awards ceremony, 2 gymnastics/dance recitals, jewlery party, hosted Bunko and 2 end of the year parties......not to mention I have been working on things around the house...(more on that later)
Miss B had her dance/gymnastics recital this week. She's just 3, so there isn't much "dancing" going on... it's more along the lines of "dress them up in their costumes and watch them stand there and pick their nose".....but she was still cute regardless.
Big Sister was selected as "Student of the Month" in her class, and was recognized at an awards ceremony earlier this week. We are so proud of our frst born. She's a smart kid, and her teacher described her as a patient child and always a team player!!!
Everything seems to come easy to her....and always has...check out these weekly test papers.
That's what I like to see....and fortunately, with Miss F, we have seen these great grades all year!!! Good job!!
Miss B had her last day of preschool for the year this week.
Check out this pic of her on her first day of school back in September...
And look at her now....on the last day of school...
It's amazing how much they grow in a school year....
Big Sis had her gymnastics recital this week too....
She's my little tumbler...she really likes gymnastics, and is good at it. We are currently working on her back handspring....I can't wait for her to get it!!!
Last night, I hosted Bunko at my house...11 teriffic ladies joined me for a luau themed Bunko....what a blast! These gals are such a blast to be around....we always leave with sore ribs from laughing so hard....I just love that feeling!! I should have taken more pictures, but I only managed to get one of the whole group....aren't we all so cute in our luau attire???
One more week of school here and then summer begins....I can't wait to sleep past 545am!!! Did you know our school bus comes at 645am??? Seriously, that's insane....
I am so looking forward to NOT getting up before the rooster crows...however, I have a feeling with my 2 little early birds in the house, 7am will be about as late as I will be able to sleep this summer....are your kids early birds too??? It can't be just mine...
AND, as promised, I will be sharing Miss B's big room reveal on my next post....it's complete...well, I still have a few tweaks here and there, but overall it's COMPLETE!!!! YAY!!
Want a quick peek??????
Here ya' go...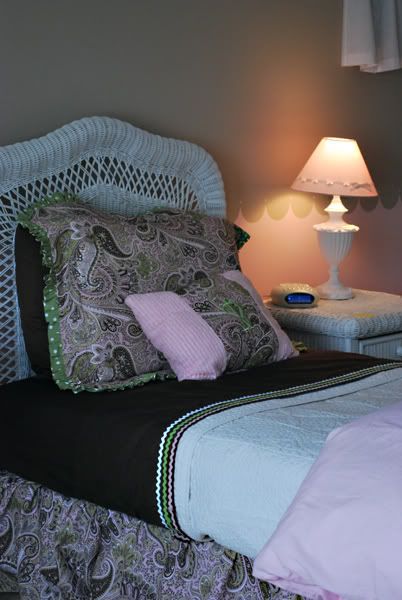 Lots of cute room reveal pics coming up.......
Happy Friday Everyone!!
Stay sane...summer's almost here!!!