Last week, I showed you my new dining room makeover.
(Thank you all for your sweet comments....I love hearing others like and appreciate my hard work!)
If you missed my Dining Room post, you can check it out HERE
Several of you noticed this hutch in my before pictures of my dining room, and asked where it went. (It's no longer in my dining room)
And I must say, you perceptive folks out there DO notice the small things.....like little missing corner hutches! ha!
Well, I decided the corner hutch took up too much of my small dining area, and I move it!!
Here is a BEFORE picture of that cute little hutch.....(

it was pulled out from the wall because I was painting the wainscoting behind it)
This hutch belonged to my grandmother and was passed down to me years ago....for so long it sat in the corner, dull and boring...never being noticed..
.
Please excuse the poor picture quality...
.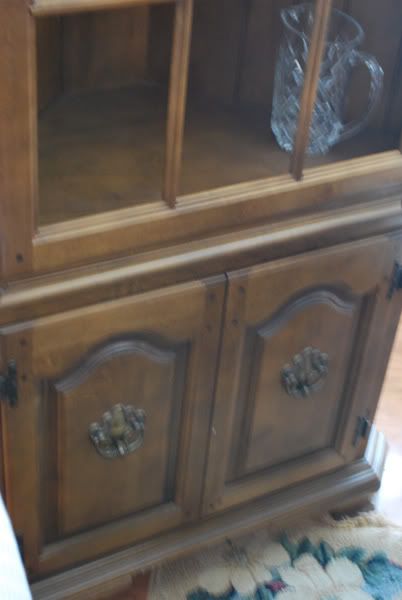 I took the doors off and painted them....I decided to go with white, so it would match the other furniture in the room.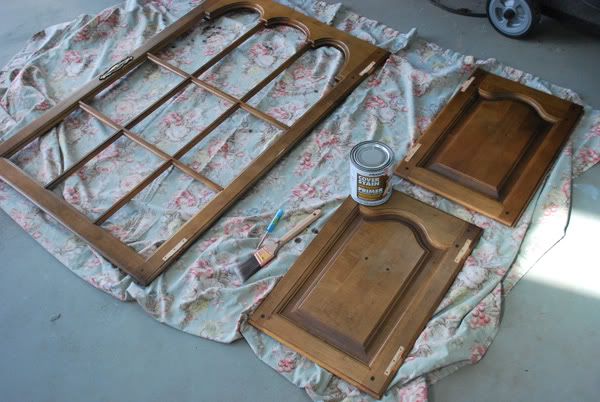 What would I do without my best friend, Mr. Cover Stain???? Can you say magical?!? This stuff is GREAT....no need to sand your piece if you have this magical stuff!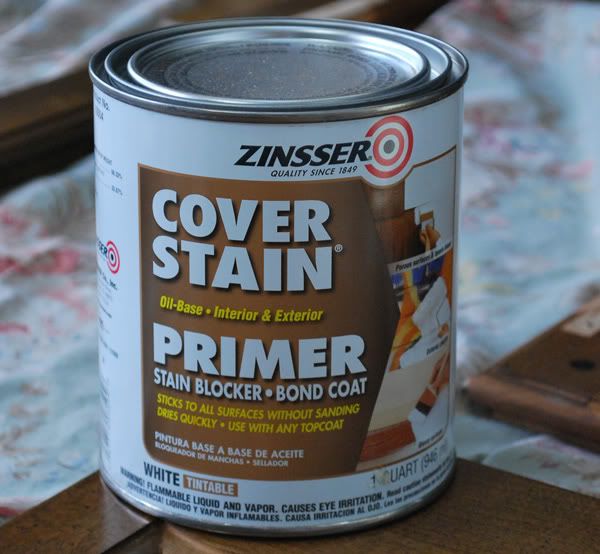 I also bought some of this antiquing glaze to give the furniture a little more character!
This was the first time I used the antiquing glaze, and it was very simple. Just brush it on where there are cracks, and wipe it off with a damp towel. The less you wipe off, the more distressed it will look
.
And here is my new corner hutch. It now sits in my craft room and holds my craft supplies!!!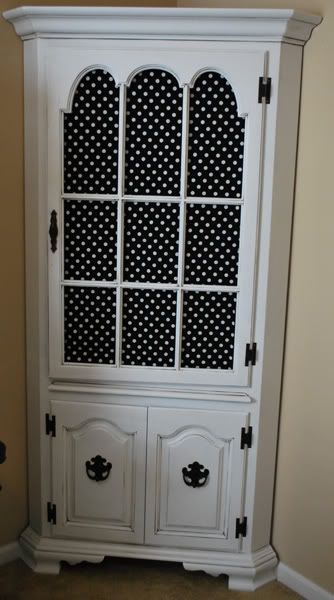 I kept the original hardware and spray painted it with my ORB spray paint!
The glass to this piece was busted out years ago, so I just grabbed a piece of fabric and TAPED it on the inside of the hutch's door....Instant cuteness!
Here, you can see the glaze in the cracks...it adds definition to the white paint!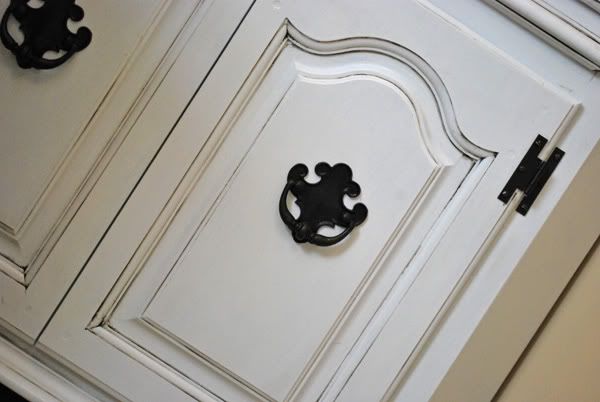 So, let's take another look....
Who said hutches have to be only used in Dining Rooms?!?!?
Stay tuned for more peeks at my craft room in the upcoming weeks....