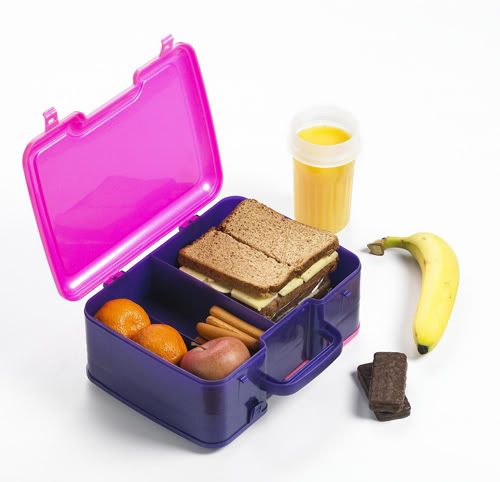 It's Back To School Time around here!
The kids start school next week!! Yay!
I go back and forth between wanting to have more time with the kids ..and wanting them back in school. I really miss my routine that comes with them in school, but I will miss those sweet hugs and cuddles during the day I've been getting all summer long!
So, I am trying to get back in to the "school groove" in the last few days....getting bedtime routines back in check, school supplies, school uniforms bought, etc.
I've also been looking into ideas for what to pack in their lunches. I'm not into the school lunches....Chicken fried steak, chicken nuggets, cheeseburgers and hot dogs are great every now and then, but not EVERY day for lunch.
So, I did a little research online to find some fun (and healthier) ideas to pack into the girls' lunch boxes.
Here are the 20 lunch ideas I came across...
1. Rice cakes (faces) with peanut butter spread on top with raisins and coconut flakes as eyes and hair
2. Celery sticks filled with peanut butter or cream cheese with raisins on top
3. Bologna, ham, or turkey cut into fun shapes using miniature cookie cutters
4. Pin wheel sandwiches-- tortillas spread with cream cheese & ham or turkey OR spread with peanut butter and jelly....rolled up and cut into sections
5. String cheese and meat slices with or without crackers
6. Heat up some mac n cheese, put it in a Thermos container. It will stay warm enough to eat for lunch
7. Heat up soup and put into a Thermos container
8. Chef Boy R Dee warmed up and placed in a Thermos
9. Apple slices with caramel dip
10. Make muffins and freeze them. Take them out as needed for lunches. They will thaw by lunch time.
11. Fruit & Yogurt parfaits--layer with yogurt/fruit/granola. Freeze & take out in the a.m. It will thaw by lunch time
12. Pasta salad...add cubes of ham ad cheese
13. Cottage cheese with crackers and/or fruit
14. Hard boiled eggs already peeled
15. Bagel sandwiches....spread cream cheese and turkey/ham on a bagel (or mini bagels)
16. Use warmed up waffles to make a peanut butter and jelly sandwich or cut into sticks and serve with a side of syrup
17. Fresh fruit mixed with marshmellows
18. Stuffed apples--cut out the core and stuff with p.b & jelly or cream cheese and raisins
19. English muffin pizzas--spread with sauce, mozarella cheese and pepperonis. Heat to melt cheese and pack in lunchbox
20. Sausage and cheese kabobs..served with crackers, mixed fruit and a boiled egg
**and don't forget leftovers you can heat up the next morning and stick in a Thermos!!**
**** I also came across this AWESOME website with ideas for lunches. Click
HERE
to go to it!!! It has all sorts of ideas!*****
I'm still looking for more fun ideas for my girls' lunchboxes, so please feel free to offer up some suggestions!!!!