WHAT A WEEKEND!!!!
This weekend was a big weekend for us.....after months of training, it was the weekend for Ryan's first half-marathon. For those of you who don't know, a half marathon is 13.1 miles......that's alot of running, and takes months of training to be able to do it.
So on Friday, we headed to Myrtle Beach, S.C. for the Dasani Half Marathon. Friday night they held a 5K, which is what I like to run. I am not a fast runner, and after 3 miles I start to get really bored, so I really enjoy the 5K's.
We got to the start line of the race on Friday night and the snow started falling...just a little bit at first. Here I am with my girls at the starting line...
You can see a few snowflakes in the picture, but not too bad....
Then the race started....and so did the heavy snow.
Now, keep in mind I have been training on a treadmill since December because I hate running in the cold weather....yep, that's right, I'm a wimp.....
But there was no turning back, so, the race started and I made up my mind that this was probably the ONLY time in my life I would run in a race with it snowing.... so, with a smile on my face I took off running...and I don't think I quit smiling for 3.1 miles!!!
Here I am at the 1.6 mile mark!!!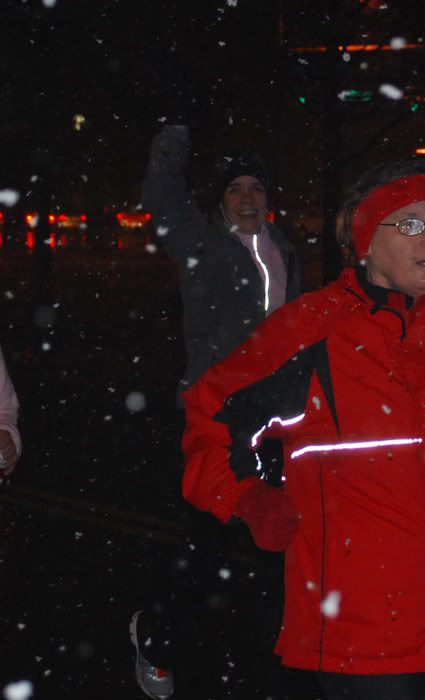 Seeing my husband and girls at the half way point really gave me a GREAT boost to continue on!!! LOOK AT THE SNOW!!!!!!!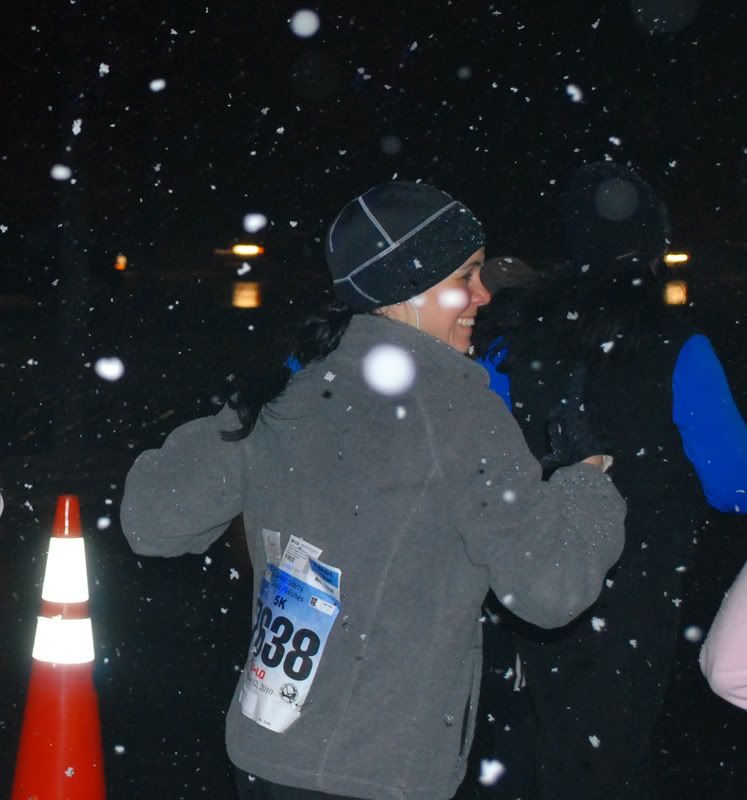 Believe it or not, running in freezing cold temperatures was not bad at all. After the first 5 minutes I wasn't cold anymore. The worst part was sucking snowflakes up my nose and getting poked in the eye by them (that hurts!).....
I actually finished with a great time (for me)..29:13
However, the snow got really heavy (who would have thought it would SNOW at the beach??) and by late Friday night, they made the decision to cancel Ryan's half marathon.....needless to say, he was very disappointed. All that training for nothing!!!! So, we are looking for another half marathon close by for him to run in!
Our next race is the Cooper River Bridge Run on March 27th. It's a 10 K (6.2miles) and 1 mile of it is uphill. YIKES!!! My training for it starts today!
Instead of running in a half marathon on Saturday, we bundled up and headed out in the parking lot of the hotel where we were staying. We found some snowy areas and let the girls play in the snow until their hearts were content. This was the very first time either girl has seen snow, so they were just beside themselves!!
Brooke was a little hesitant at first....gotta looks a deer caught in the headlights..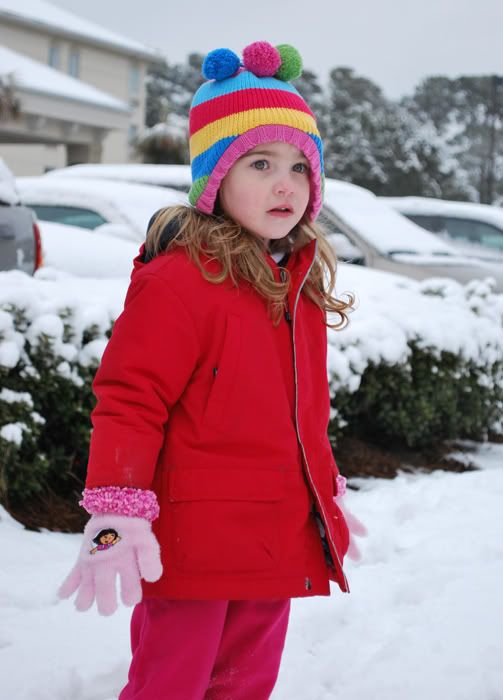 But she quickly warmed up and was all smiles!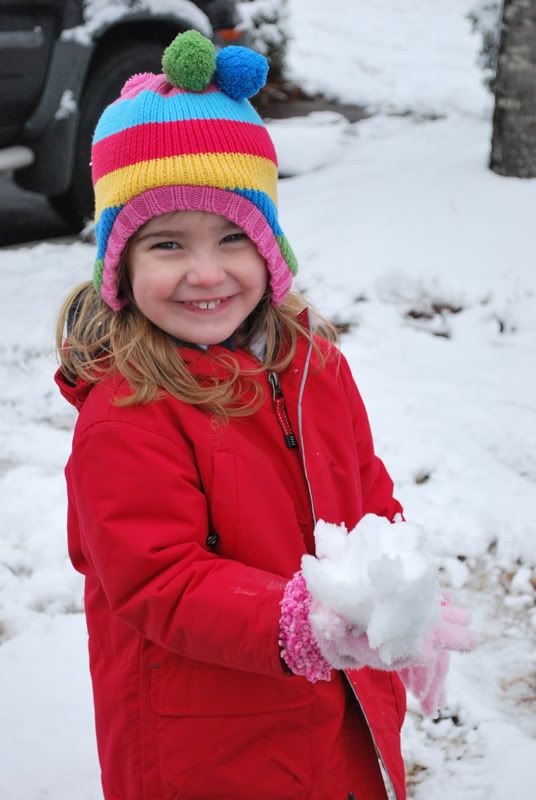 Faith was all excited about making snowballs and throwing them at everyone!
Even Brooke got into the snowball fight....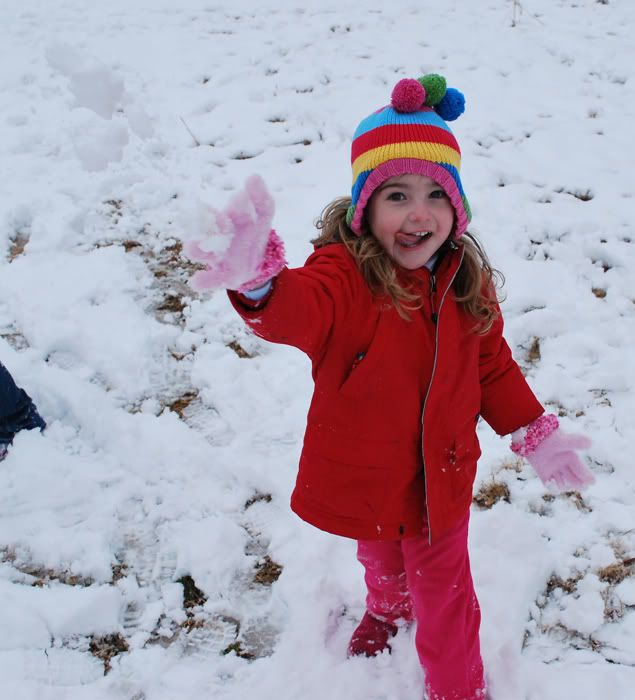 Look at that look on her face.... I am pretty sure I got hit with that snowball in her hand just a few seconds after I took this....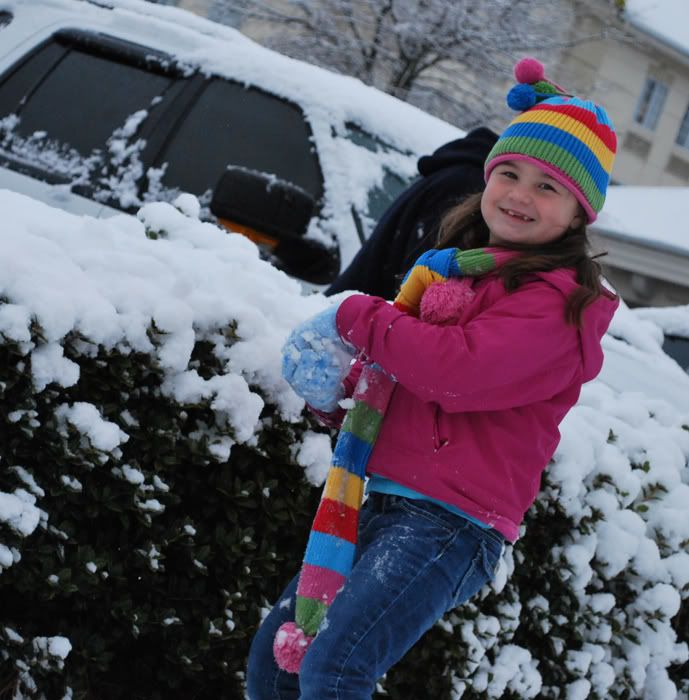 They did hand stands.....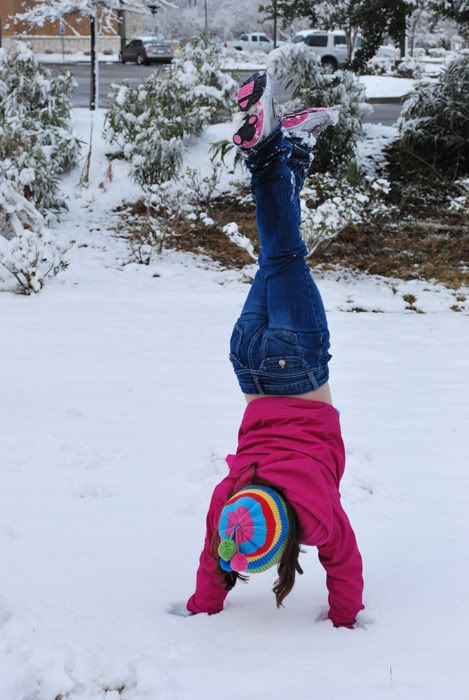 ....even took a little break to eat a little snow....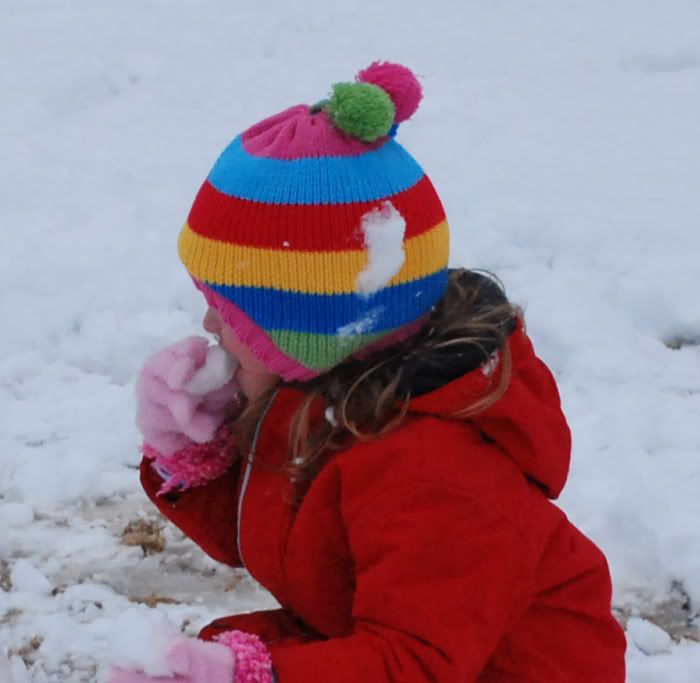 I'm not sure who had more fun....the girls, or me watching them have fun. The smiles on their faces is priceless!!!!