...who doesn't care about this movie and it's characters?!?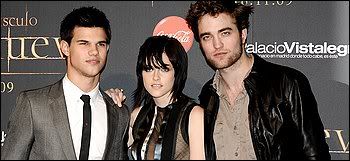 I hope I don't offend anyone...afterall, it's just a movie...
But what is it about this movie/book/characters that has everyone in ka-hoots?!?
I will admit, I haven't read the book(s) or seen the movie....so maybe I don't know what I am missing....but honestly, a storyline with vampires and werewolves as the main characters don't interest me AT ALL!
So, somebody please tell me I am NOT the only one who is not into this Twilight/New Moon saga.....and if you are into it, tell me what it is that makes it so enticing....
...who knows? Maybe I will give it a shot....